ARTIST: KATARINA TIFT
Katarina was born in Slovakia. Her family is of Hungarian descent. She
graduated from the Technical School of Civil Engineering in Hurbanovo. Soon
after her studies Katarina moved to the beautiful island of Cyprus. She was
known in the community for her seascape paintings. After a life changing trip
to Thailand, Katarina discovered a strong desire to see the world. Once again
leaving everything behind she worked in the F&B industry while living in
places such as arctic Lapland, northernmost point of Norway, picturesque
Oxford, the Hamptons.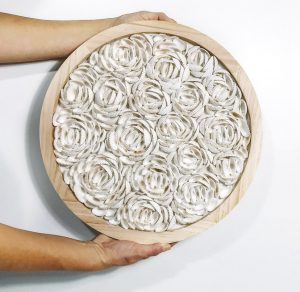 Being exposed to diverse cultural experiences, meeting
people from all walks of life has fundamentally changed her outlook on life.
During the pandemic she started painting again, but her curiosity for new
things led her to experiment with other mediums such as wood, ceramics,
seashells. Her love for seaside living, nature and geometry are the influence
behind her current work. In a world of mass production Katarina takes pride in
handcrafting pieces that are unique and one of a kind. She hopes her art makes
people stop for a moment, stare, take a step closer and evoke an urge to touch
and feel the texture. To her, it's like speaking to people through the beauty
of art. Katarina is currently working on a collection that will be available
to buy in her Esty shop.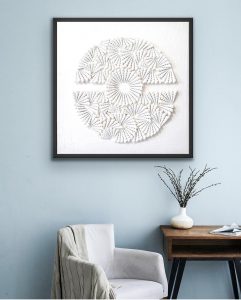 Katarina moved to Lakeland in 2020 where she lives with her husband. Apart
from arts she also loves food. She became part of the Born and Bread bakehouse
team in 2021 where she is learning the art of pastry and bread making. In her
free time you can find her inline skating around lake Hollingsworth.
https://www.instagram.com/katarinatifft/